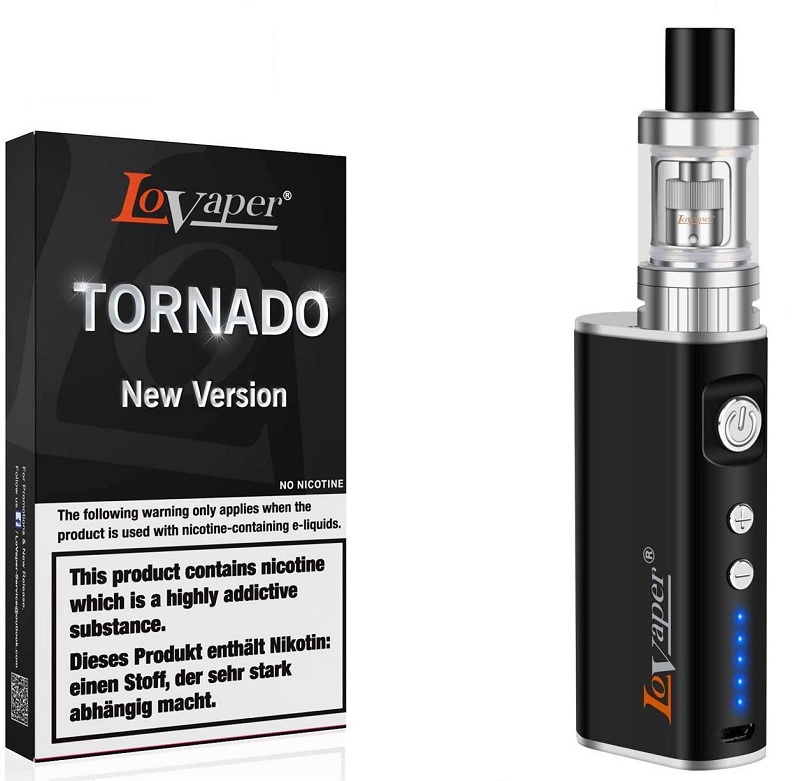 Perhaps you are reading this review you are probably looking for a cheap and cheerful entry-level vaporizer and are considering buying a LoVaper Vape Tornado box mod. Or maybe you are a seasoned vaper looking for a device to give you your next big hit.
But how good is the LoVaper Vape Tornado? Will it give you years of happy vaping or prove to be a no-starter right out of the gate?
Let's take a look at this box mod with such an impressive name and see what it's really all about.
If you look at the packaging, you will see it tells you the device is a Tornado and it's manufactured by LoVaper. However, it's being sold on Amazon under the name Vape Tornado. That's the name people will probably entering into search engines when they are looking for information about the product so Vape Tornado is also the name used in this review.
As far as its appearance goes, the device looks pretty good. Unfortunately, customer reviews suggest it may be more fragile than it looks.
The LoVaper Vape Tornado comes complete with a 2200mAh rechargeable battery and a 2.0ml Tornado tank. The kit has everything you need to start vaping except for a bottle of juice and there are 5 different power settings (20 watts to 60 watts).
Depending on your preference you can use the device to vape Mouth to Lungs (MTL) or Direct to Lung (DL).
A lot of people who switch to vaping to escape the perils of smoking often prefer to vape MTL. However, whether you want MTL or DL, the option is there and the manufacturer says the Tornado can deliver some "massive clouds of vapour".
The manufacturer also states the battery is quick to charge and should provide a full day's worth of vaping. Unfortunately, that's not what many Vape Tornado users say. Problems with the battery are one of the main reasons this product has so many poor customer reviews.
Company Credibility
LoVaper is not a popular brand. You're not going to buy a Tornado if you are hoping to be one of the "in crowd". The chances of bumping into fellow Vape Tornado user are going to be pretty slim.
The LoVaper brand name belongs to Shenzhen Meihe Dianzi Youxiangongsi. The company is based in Hong Kong and, at the time of this review, the Vape Tornado was the only device the company was marketing under the LoVaper brand name.
The LoVaper website is very basic. It's the kind of site even a rookie webmaster may be able to knock together in less than half an hour. When you visit a site like that it's not confidence-building.
The site provides a little information about the company, along with an address in Hong Kong and a hotmail email address. Hotmail! How professional is that?
The site only has information about one product—the L1 60W Starter Kit. It's really just a list of specifications along with a "Buy from Amazon" button. The button doesn't work because it links to the page the button is on instead of Amazon.
Amazon.com doesn't have any LoVaper products. It's possible to buy the LoVaper Vape Tornado from Amazon UK, but not the L1 60W starter kit.
However, the company used to have other models available including the LoVaper Hurricane and the LoVaper Storm40 Electric Vape Pen. The fact that these products are no longer listed on Amazon does not suggest they were a success.
What the Kit Contains
1 x Vape Tornado box mod
1 X 2,200 mAh rechargeable battery
1 X Tornado 2.0 ml atomizer
1 X Micro USB Charge Cable
1 X 0.5 Ohm coil
2 X Silicone mouth piece
LoVaper Vape Tornado Specifications and Selling Points
Top-filling tank and bottom air control ring design
Built-in 2200mAh rechargeable battery
Smart LED indicator that shows battery status in 5 levels (1 light = 20% power, 2 lights = 40% power, etc.)
Variable wattage range: 20w to 60w
510 Thread design (allows you to use any 510 atomizer you want)
10-second cut-off safety feature
Short circuit protection
Over-load protection
Over-discharge protection
Micro USB charging
Special Features
The manufacturer is keen to point out the Vape Tornado is refillable from the top instead of the bottom. It obviously sees this as being a strong selling point. Is it really such a special feature? That depends on your point of view.
LoVaper Vape Tornado Customer Reviews
Amazon customers have left a lot of feedback about this product. At the time of this review, there were slightly more people with good things to say about the LoVaper Vape Tornado, but even some of the people who awarded the product a full five out of five stars were remarking on quality and durability issues. That's unusual.
If you liked a product but found a pretty big problem with it, such as a fragile tank, wouldn't you knock off at least a star or two when you were leaving your review?
Although a lot of of people appear to like the device, and some even make remarks about it being good quality, there are too many reports of battery problems, broken tanks, leaking e-liquid, and other problems.
There seem to be some quality issues with the Vape Tornado. If you are seriously thinking of investing in one, it's a good idea to read a lot of customer reviews first.
CLICK HERE TO READ THE MOST RECENT AMAZON CUSTOMER REVIEWS
Where Can I Buy a LoVaper Vape Tornado?
It's possible the Vape Tornado may be available via certain retailers because the LoVaper website mentions wholesale. Apart from that, the only place to go is Amazon UK.
Is There a Warranty or Guarantee?
The marketing material doesn't mention a guarantee or warranty so it is probably safe to assume there is neither. However, if you buy it and have a problem within the first 30 days, you may be able to get a refund under the Amazon Returns Policy. That's not great, but it's better than having nothing to fall back upon.
How Much Does the LoVaper Vape Tornado Cost (And is it Worth the Money?)
At the time of this review, the Amazon price for a Vape Tornado was £32.99.
The good news is there are no additional charges to pay for shipping. The bad news is, opting for free shipping will mean you may have to wait over a week for your order to arrive. A faster option is available but it entails an additional charge.
As far as the price of the product goes, the Vape Tornado is not expensive to buy. You could add some e-liquid to your order, get everything you need to start vaping, and still have spent less than £40. A lot of smokers spend that much on cigarettes every couple of days. Some smokers spend a lot more.
If you look at it like that, the Vape Tornado seems like a pretty good investment.
However, too many people are reporting broken tanks and/or saying the battery will not charge of does not hold its charge if it does.
If you encounter problems like this straight away and fail to get a refund via the Amazon Returns Policy, you might as well have burned your money and watch it go up in smoke. The truth is, there are better options available.
For instance, a SMOK RPM40 generally costs less than £30 and SMOK provides a 60-day warranty.
The battery in a SMOK RPM40 is slightly smaller than the one in a Vape Tornado, but customers don't report any problems with charging or battery life. In fact, customer reviews are very good, right across the board. It's a high-quality product at a very pocket-friendly price.